Dupattas have long been an essential component of traditional Indian attire, adding a touch of grace and allure to any outfit. Among the plethora of choices available in the market, one name stands out for its exceptional quality and exquisite designs – Madhav Fashion. As a top embroidery dupatta fabric manufacturer in India, particularly in Telangana, Madhav Fashion has carved a niche for itself with its unparalleled collection of dupatta fabrics that cater to every taste and occasion.
Embroidery Dupatta Fabric: Where Craftsmanship Meets Elegance
Madhav Fashion takes pride in its extensive range of embroidery dupatta fabrics that perfectly blend craftsmanship and elegance. Each piece is a testament to the skilled artisans who meticulously craft intricate embroidery patterns, turning a simple piece of fabric into a work of art. Whether it's delicate threadwork, shimmering sequins, or vibrant bead embellishments, Madhav Fashion's embroidery dupattas add a touch of opulence to your attire.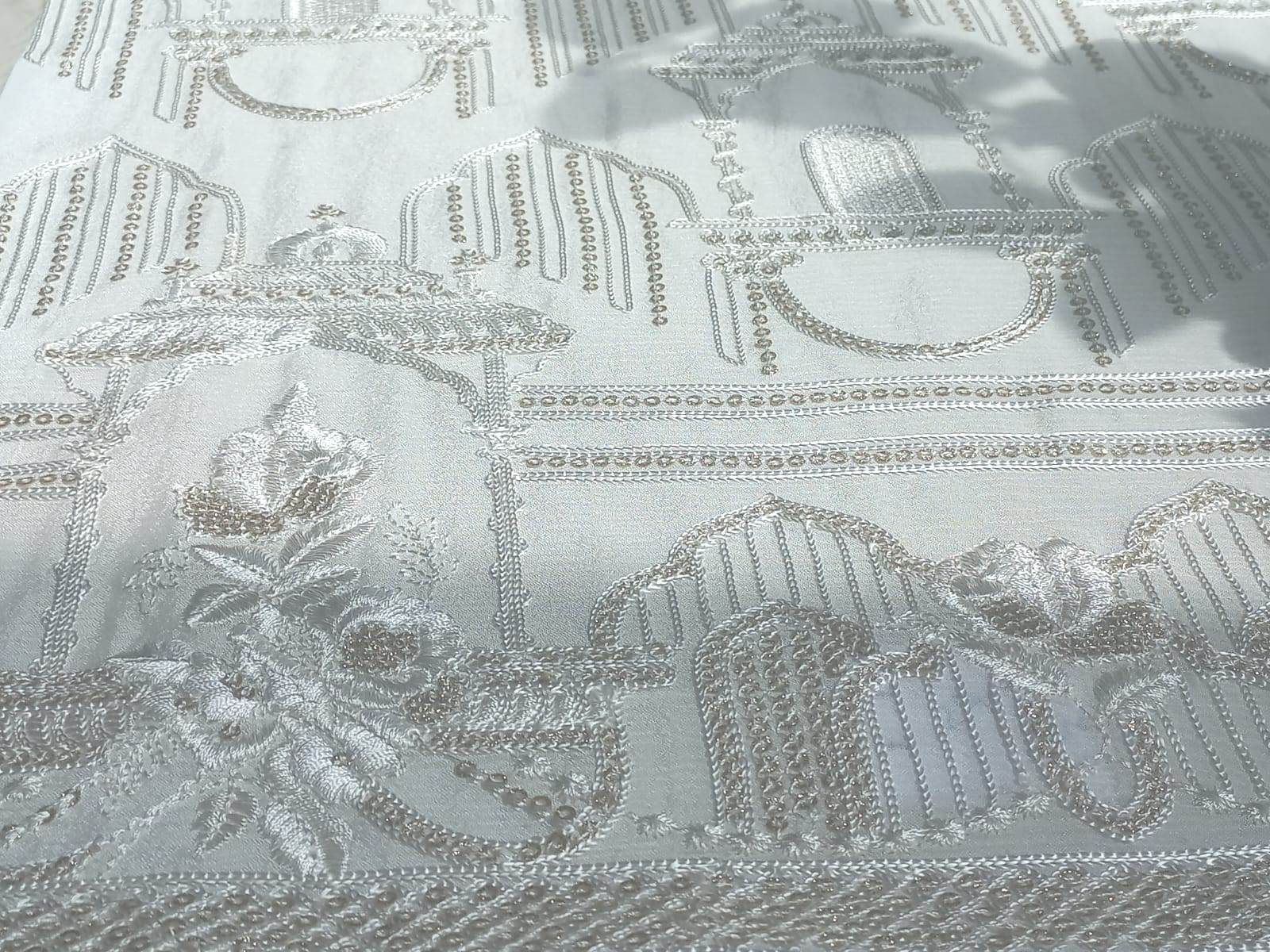 Top Embroidery Dupatta Fabric Manufacturer in India Telangana
Unveiling the Best Fabrics for Dupattas
When it comes to selecting the best fabric for dupattas, Madhav Fashion offers a diverse selection that ensures comfort without compromising on style. From the ethereal charm of chiffon to the timeless appeal of cotton, each fabric is carefully curated to cater to different preferences. The cotton dupatta fabric available online from Madhav Fashion boasts breathability and a soft touch, making it a perfect choice for everyday wear. On the other hand, their chiffon dupatta fabric exudes sophistication, draping beautifully and adding a hint of glamour to any ensemble.
Top Embroidery Dupatta Fabric Manufacturer
Wholesale and Online Delights: The Madhav Fashion Experience
Madhav Fashion doesn't just provide remarkable embroidery dupatta fabrics; it also extends a seamless shopping experience. As a prominent dupatta fabric wholesale supplier, Madhav Fashion offers a gateway for retailers to access their premium collection and enhance their inventory. Furthermore, for individual customers, their online platform showcases a stunning array of dupatta fabrics, enabling you to explore and shop from the comfort of your home.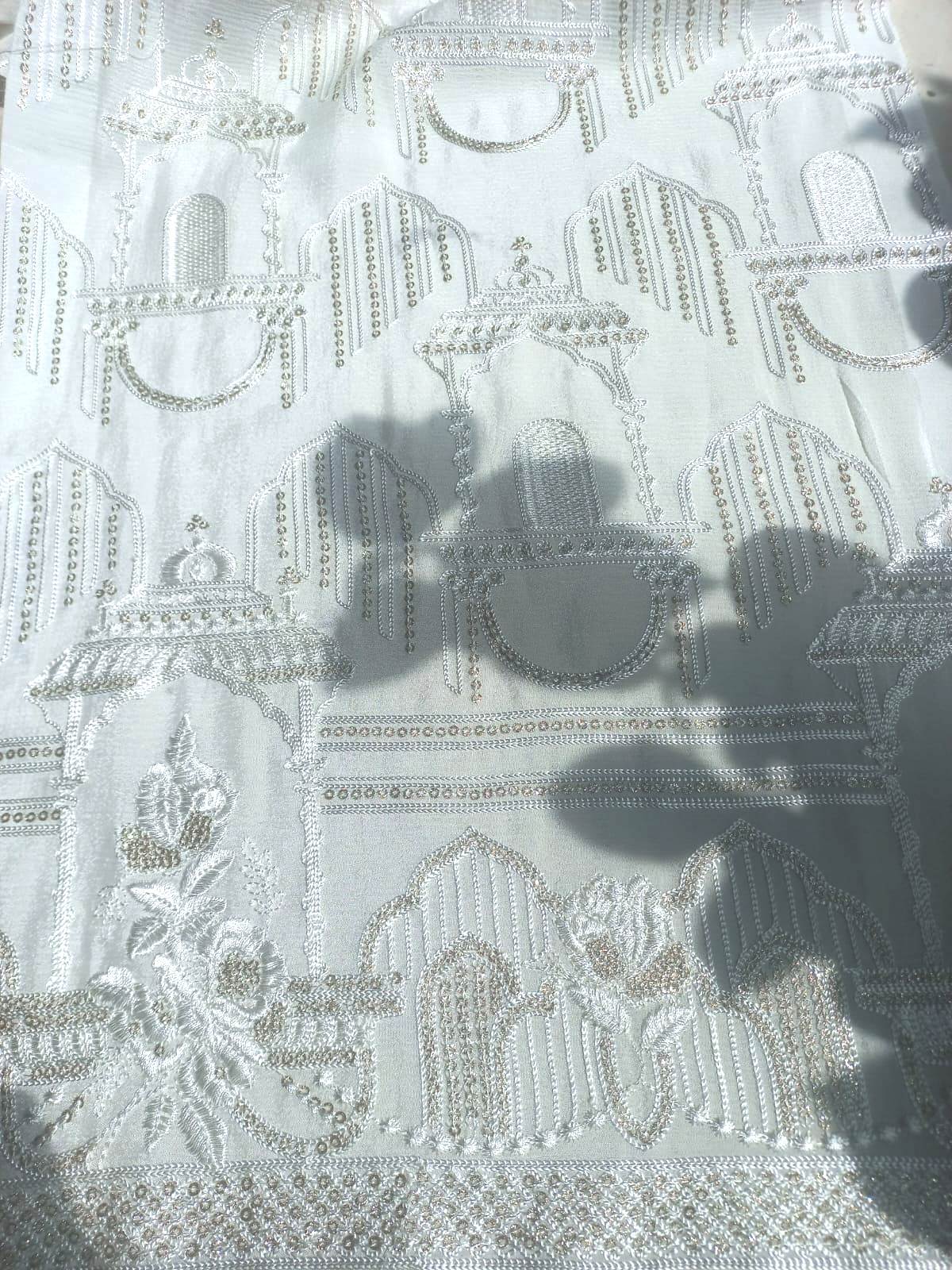 Embroidery Dupatta Fabric Manufacturer in India
Exploring Dupatta Fabric Material Names and Designs
Madhav Fashion's commitment to excellence is reflected in their extensive selection of dupatta fabric material names and designs. From the evergreen charm of silk and the regal allure of velvet to the breezy elegance of georgette, their collection caters to every taste and occasion. Whether you're looking for traditional paisley motifs or contemporary abstract designs, Madhav Fashion ensures that each piece narrates a unique story.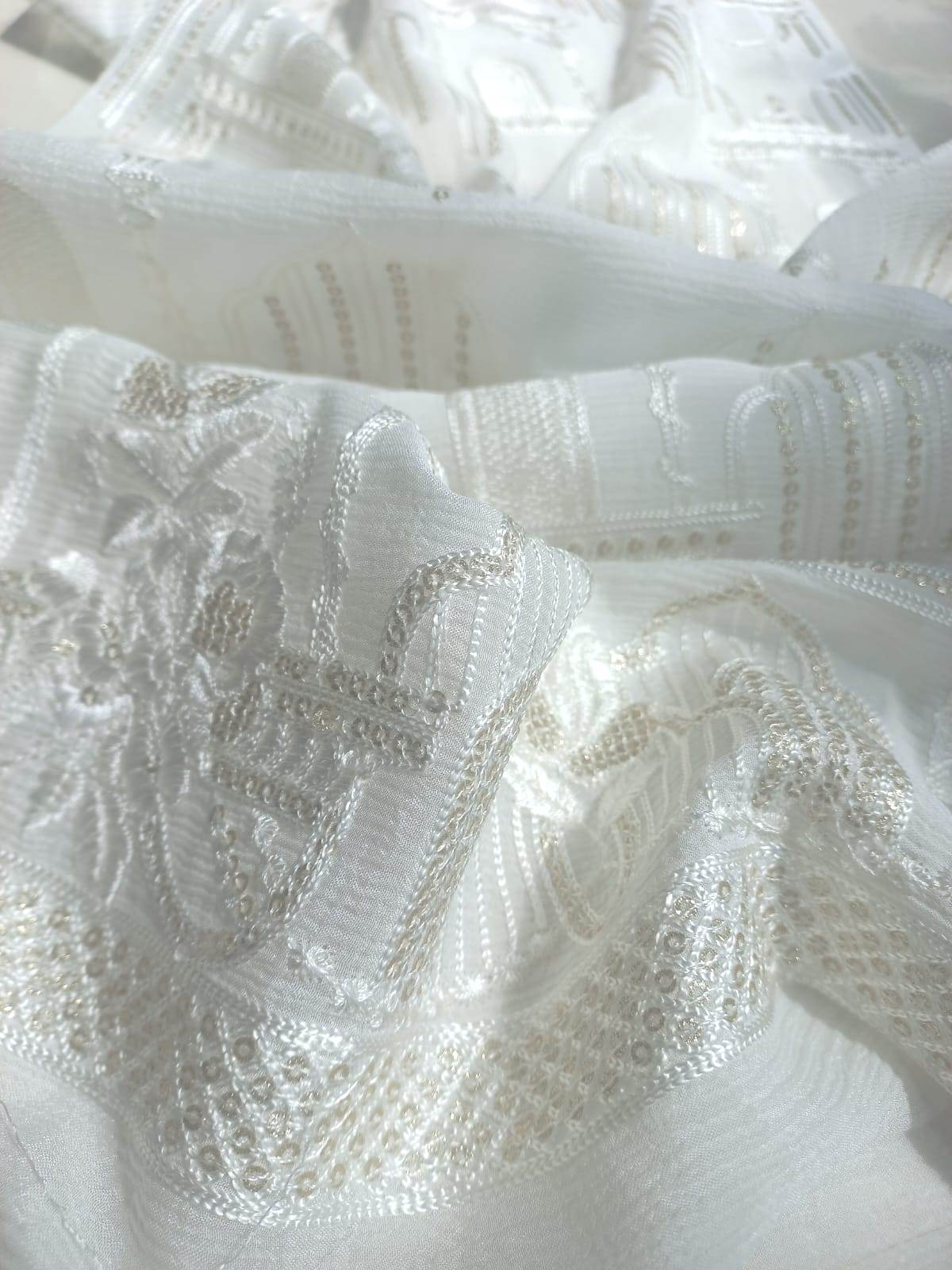 madhav fashion is top Embroidery dupatta fabric manufacturer in gunarat
A Melange of Elegance: Types of Dupatta Material
Madhav Fashion's collection encompasses an array of dupatta materials, each with its distinct characteristics. The cotton dupatta fabric offers comfort and versatility, making it a staple for casual occasions. Chiffon dupatta fabric, with its sheer texture and graceful fall, is a preferred choice for formal events. Additionally, Madhav Fashion presents an array of other options like silk, georgette, and velvet, each contributing to an ensemble's overall appeal.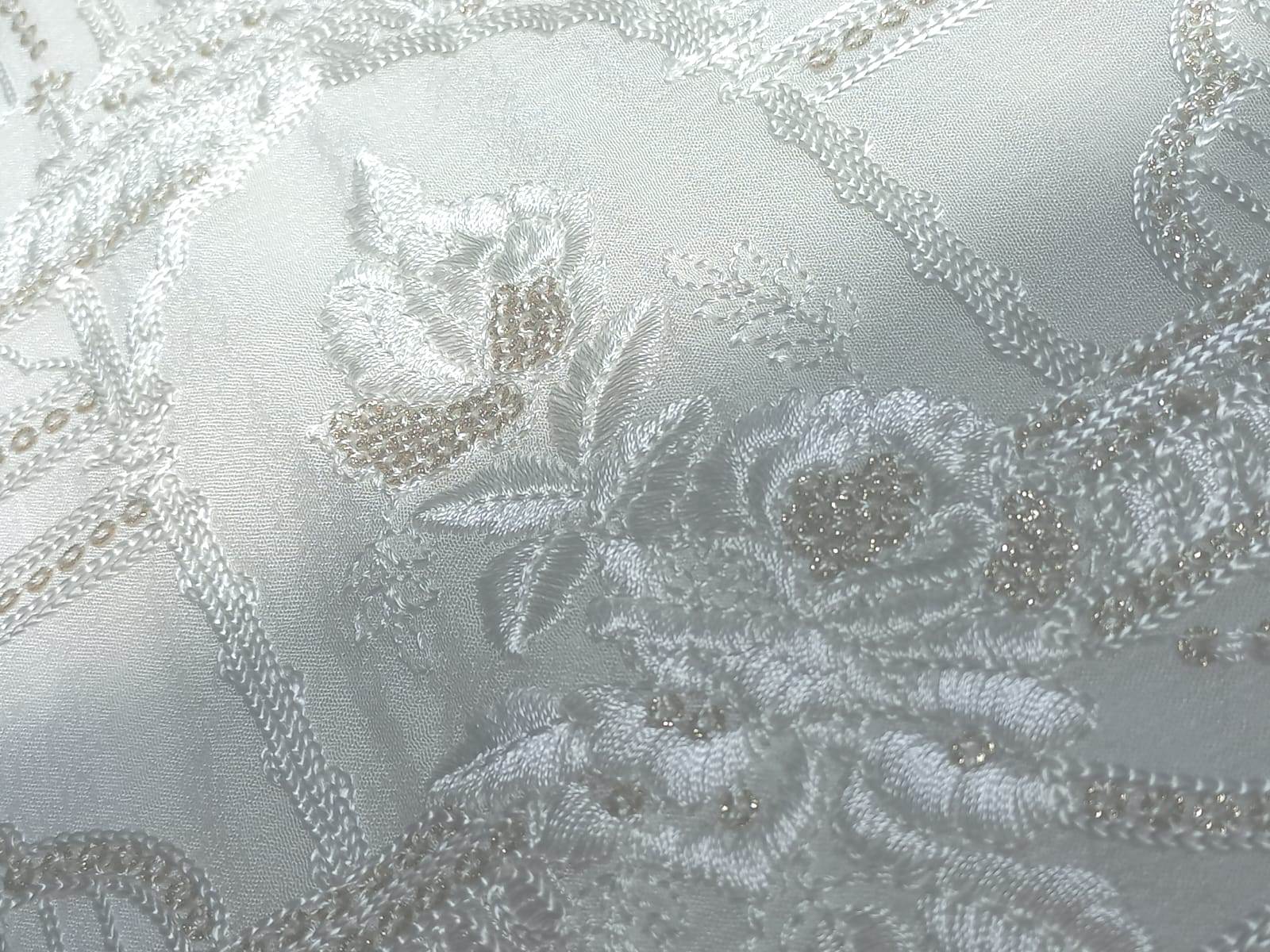 Embroidery Dupatta Fabric Manufacturer in India gujarat madhav fashion
In conclusion, Madhav Fashion's position as a top embroidery dupatta fabric manufacturer in India, particularly in Telangana, is well-deserved. Their dedication to producing exquisite pieces that combine craftsmanship, elegance, and comfort has established them as a frontrunner in the industry. So, whether you're a retailer looking to elevate your collection or an individual seeking the perfect dupatta to complement your outfit, Madhav Fashion is your ultimate destination. With their online platform bringing these exceptional fabrics to your fingertips, embracing elegance has never been this effortless.
Want dupatta
Embroidery dupatta fabric
best fabric for dupatta
Dupatta fabric wholesale
Dupatta fabric online
dupatta fabric material names
dupatta fabric design
Cotton dupatta fabric online
Chiffon Dupatta fabric
Types of Dupatta material
Top Embroidery Dupatta Fabric Manufacturer in India Telangana (Madhav Fashion)
People also ask (FAQ)
What kind of fabric is used for dupatta? Dupattas can be made from a variety of fabrics, including silk, chiffon, georgette, cotton, crepe, velvet, and more. The choice of fabric depends on the desired look, occasion, and personal preference.
Which is better, Georgette or Chiffon dupatta? Both georgette and chiffon are lightweight and sheer fabrics that drape beautifully. Georgette is slightly heavier and has a more textured surface, while chiffon is even lighter and has a smoother texture. The choice between the two depends on the level of sheerness and the overall aesthetic you prefer.
How many types of dupatta are there? There are various types of dupattas, including embroidered dupattas, printed dupattas, plain dupattas, phulkari dupattas, bandhani dupattas, and more. Each type offers a unique style and can be paired with different outfits.
Which silk is best for dupatta? For dupattas, lightweight silks like Chiffon silk, Georgette silk, and Organza silk are often preferred due to their graceful drape and luxurious appeal.
Which cloth dupatta is best? The choice of the best cloth for a dupatta depends on personal preferences and the occasion. Georgette, chiffon, and silk are popular choices due to their elegance and versatility.
Which type of dupatta is best? The "best" type of dupatta varies based on individual style, outfit, and occasion. Embroidered dupattas add a touch of opulence, while printed ones can offer a vibrant or casual look. Choose the type that complements your outfit and enhances your overall appearance.
Which is better, Organza or Chiffon? Organza and chiffon are both sheer fabrics, but organza is typically stiffer and has a shinier appearance compared to chiffon. The choice between the two depends on the desired level of stiffness and sheen in the fabric.
Is chiffon cheap or expensive? Chiffon can vary in price depending on its quality and brand. It is generally considered to be an affordable fabric, but higher-end chiffons with intricate detailing can be more expensive.
Which fabric is better, Georgette or Crepe? Both georgette and crepe fabrics have a unique texture and drape. Georgette is slightly more textured, while crepe has a crinkled appearance. The choice depends on personal preference and the desired look for your outfit.
Which type of dupatta is in trend? Embroidered dupattas with intricate designs and vibrant colors are often in trend. Additionally, handloom and sustainable fabrics are gaining popularity for their uniqueness and eco-friendliness.
What is the difference between dupatta and chunni? Dupatta and chunni are both terms used to describe a long piece of cloth worn with traditional Indian outfits. They are essentially the same, with regional variations in terminology.
Is chunni and dupatta the same? Yes, "chunni" and "dupatta" are essentially the same. They refer to a piece of fabric, usually long and draped over the shoulders, worn as an accessory with Indian clothing.
Which silk is good for embroidery? Silks with a smooth texture and sheen, such as pure silk or silk blends, are good choices for embroidery. They provide a solid base for intricate embroidery work to stand out.
What is the highest quality silk fabric? Mulberry silk is often considered the highest quality silk due to its softness, durability, and fine texture. It's obtained from the silkworms that feed on mulberry leaves.
Which silk is costly? Among the various types of silk, varieties like Mulberry silk, Tussar silk, and Muga silk can be relatively costly due to their intricate production processes and luxurious properties.
Summary
Explore a World of Elegance with Dupatta Fabrics
In the realm of traditional Indian attire, the dupatta holds a special place as a versatile accessory that not only complements an ensemble but also adds a touch of grace and allure. If you're in search of exquisite Dupatta Fabric and Dupatta Material that reflects the latest trends, your quest ends here. We bring you a curated collection that caters to the diverse tastes of fashion enthusiasts, showcasing a myriad of options to elevate your style game.
Best dupatta embroidery fabric manufacturer in gujarat – madhav fashion
Variety in Embroidery: Enhancing Dupatta Fabrics
At the heart of our offerings lies the enchanting world of Embroidery Dupatta Fabric. With an array of materials that include Cotton Grey Fabric adorned with Chattayi Border embroidery, we bridge the gap between tradition and contemporary elegance. The intricate embroidery patterns are a testament to the skilled artisans who weave stories of craftsmanship through each stitch. Our Embroidered Dupattas in Surat epitomize opulence and sophistication, offering you a range that mirrors your refined taste.
The Embroidered Marvels: Unveiling the Beauty
In the vibrant city of Surat, we proudly present Embroidered Dupattas that stand as true marvels of artistry. From Nyloan Fabrics to Pure Thread Nett, our collection offers a kaleidoscope of options, perfect for occasions that demand a touch of splendor. Our Embroidered Wedding Dupattas capture the essence of celebration, combining intricate designs with the richness of fabric to create a symphony of elegance.
Diverse Offerings: From Dyeable Fabrics to Zari Adornments
Our commitment to diversity is reflected not only in our range of fabrics but also in the versatility of our offerings. From Dyeable Dupattas to Dyeable Embroidered Fabric, we empower you with choices to infuse your personal style into our creations. The charm of our dupattas lies not just in their materials – pure silk, art silk, tussar – but also in the ornate zari work that adorns them. Gold and silver threads weave tales of tradition and grandeur, making each piece a work of art.
A Tapestry of Tradition and Modernity
Our Dupatta Fabrics encapsulate the beauty of tradition while seamlessly embracing contemporary trends. The delicate interplay of fabrics and embroidery styles allows you to curate looks that reflect your unique persona. Whether it's the timeless allure of exclusive embroidered fabrics or the elegance of dyeable options, our collection serves as a canvas for your sartorial creativity.
In a world where fashion is an expression of identity, our Dupatta Fabric offerings provide a platform to create captivating narratives through attire. From elegant understatement to grandeur that dazzles, we invite you to explore the myriad dimensions of fashion with us. Elevate your style, celebrate traditions, and adorn yourself in the splendor of Dupatta Fabrics that transcend time and trends.
With a commitment to quality, artistry, and choice, we redefine the concept of Dupatta Material, offering you a collection that resonates with your aspirations. Embark on a journey of elegance, grace, and creativity with our Dupatta Fabrics that promise to be your trusted companions on every occasion.
Reference