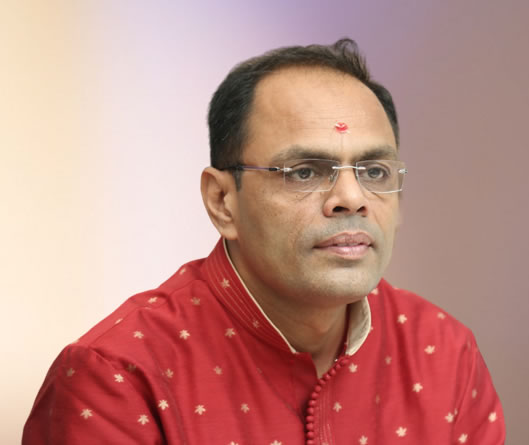 Mr.
Umesh Malaviya
(Founder & CEO)
Welcome to Madhav Fashion, an internationally acclaimed fashion brand founded by Mr. Umesh Malaviya (Founder & CEO), a visionary entrepreneur with an inspiring journey that has propelled Madhav Fashion to new heights.
Mr. Umesh Malaviya, a native of Pipariya, Amreli, Gujarat, has nurtured a lifelong passion for the fabric and fashion industry. From a young age, he harbored a grand vision of establishing a renowned company that would leave an indelible mark on the global fashion landscape.
His unwavering determination and belief in the power of hard work and positive thinking have been instrumental in shaping Madhav Fashion's success story. Mr. Malaviya firmly upholds the values of Commitment, Transparency, Teamwork, Ethics, and Integrity as the guiding principles that permeate every aspect of the company's operations.
Mr. Malaviya's journey to success has been a testament to his resilience and relentless pursuit of excellence. His entrepreneurial spirit led him through various ventures, including the hotel business and the printing industry. Despite facing failures four times, he emerged stronger, learning invaluable lessons that propelled him towards a comprehensive understanding of the market.
With a keen eye for industry trends and a deep passion for textile innovation, Mr. Malaviya ventured into the realm of the textile industry, where Madhav Fashion was born. Today, Madhav Fashion stands proudly as a shining beacon of creativity, craftsmanship, and impeccable quality.
Driven by the philosophy of "Grow with our creation," Madhav Fashion has transcended geographical boundaries and garnered international acclaim. From captivating designs to luxurious fabrics, Madhav Fashion's creations epitomize elegance, sophistication, and timeless style.
Under Mr. Malaviya's astute leadership, Madhav Fashion has become synonymous with excellence, carving a niche as a global fashion brand that resonates with fashion connoisseurs and enthusiasts worldwide. His inspiring journey serves as a testament to the power of perseverance, determination, and an unwavering commitment to realizing one's dreams. 
Explore the world of Madhav Fashion, where passion meets artistry, and immerse yourself in a captivating fashion experience that exudes the essence of international luxury and style.