Stylish and amazing allover Dupatta fabric: Dupatta is an essential accessory in the Indian traditional attire, and it can elevate the overall look of an outfit. Madhav Fashion is a leading manufacturer and trader of all-over dupatta fabric that is not only stylish but also durable and comfortable to wear. Their unique designs and quality fabrics make them a popular choice among consumers.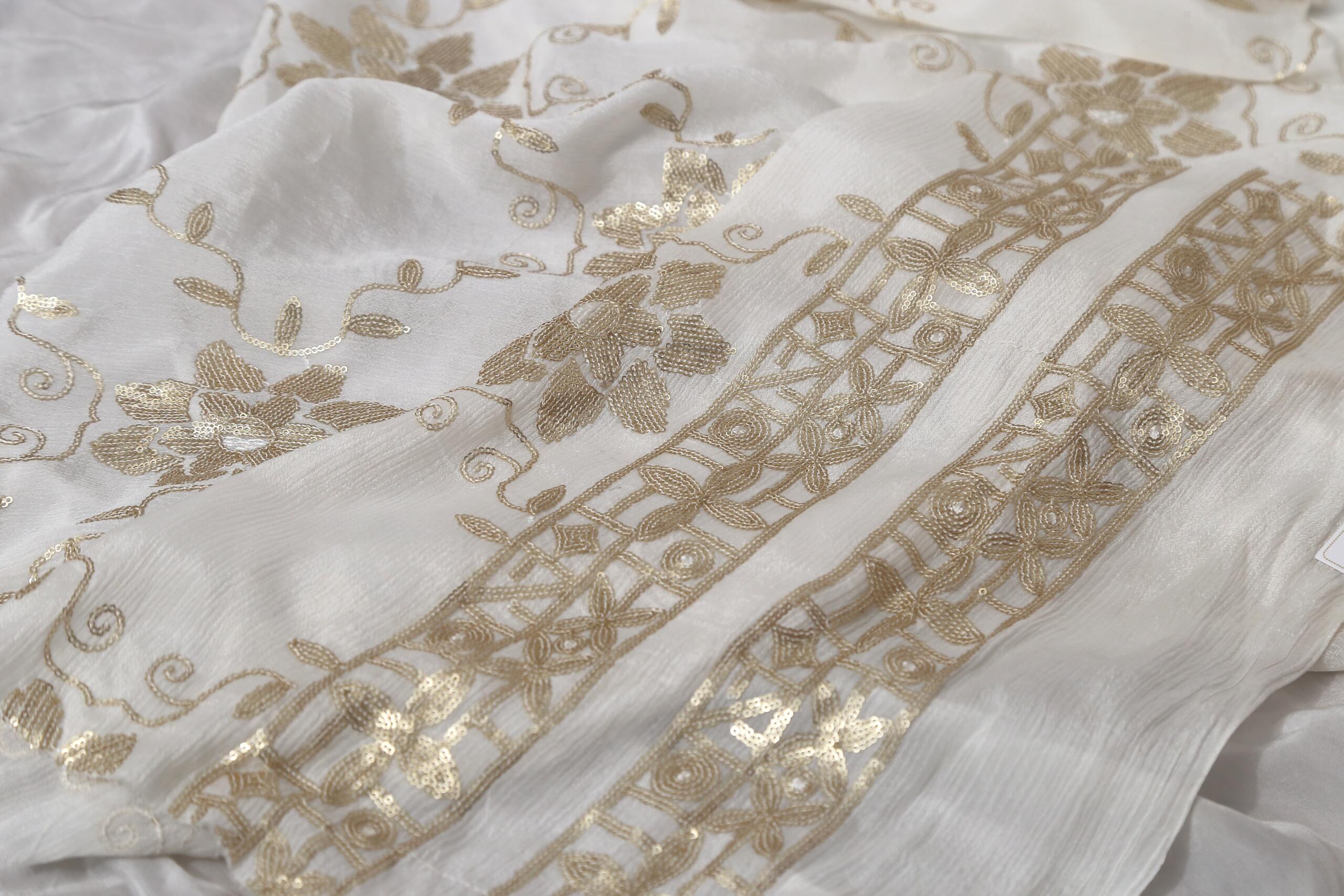 Quality of Madhav Fashion's Dupatta Fabric
Madhav Fashion uses only the best quality fabrics for their all-over dupatta fabric. They use a variety of materials, such as silk, chiffon, georgette, and cotton, to ensure that their customers have a wide range of options to choose from. The fabrics are carefully selected and tested to ensure that they are soft, comfortable, and long-lasting.
Unique Designs of Madhav Fashion's Dupatta Fabric
Madhav Fashion is known for their unique and stylish designs that are inspired by the latest fashion trends. They offer a wide range of designs, from floral prints to intricate embroidery, to cater to the diverse needs of their customers. Their designs are not only visually appealing but also blend seamlessly with different types of traditional and modern outfits.
Durability of Madhav Fashion's Dupatta Fabric
Madhav Fashion's all-over dupatta fabric is not only stylish and comfortable but also durable. The fabrics are carefully selected to ensure that they can withstand regular wear and tear. They are also easy to maintain and can be machine washed without losing their color or shape. –Stylish and amazing allover Dupatta fabric – 2023
Indian Celebrities Flock to Madhav Fashion's Embroidered Fabric Designs
According to fabric experts, Indian celebrities have developed a deep affinity for white dyeable embroidered ethnic apparel, such as white kurtas, dresses, and sarees adorned with exquisite embroidery.
These garments have become a staple in their daily wear and are their go-to choice for special occasions. Sequins embroidery work, mirror work embroidery, daman embroidery, kali embroidery, and Lucknowi patterns have captured their hearts. These designs, characterized by their regal and premium aesthetics, have become the fashion statement of the elite.""
Madhav Fashion's Commitment to Customer Satisfaction
Madhav Fashion is committed to providing their customers with the best quality all-over dupatta fabric and exceptional customer service. They understand the importance of customer satisfaction and strive to exceed their customers' expectations. Their dedicated customer support team is always available to answer any questions or concerns their customers may have.
How to Purchase Madhav Fashion's Dupatta Fabric
Madhav Fashion's all-over dupatta fabric can be purchased online or in their physical stores. Their website offers a seamless and user-friendly shopping experience, with detailed product descriptions and images to help customers make informed decisions. They also offer free shipping and easy returns, making it convenient for customers to purchase their products.
Stylish and amazing allover Dupatta fabric – 2023
Madhav Fashion's all-over dupatta fabric is a perfect choice for anyone looking for stylish, comfortable, and durable traditional attire. Their unique designs and high-quality fabrics set them apart from the competition, and their commitment to customer satisfaction ensures that their customers are always happy with their products. Whether you are looking for a floral printed dupatta or an intricately embroidered one, Madhav Fashion has something for everyone. — Stylish and amazing allover Dupatta fabric – 2023
Reference