Printed Fabric Extravaganza – Buy Finest Prints Online at Unbeatable Prices! ; Are you ready to indulge in a world of vibrant patterns and stunning designs? Look no further, as we unveil a dazzling array of printed fabrics that will elevate your style quotient. At our online store, we're all about making fashion accessible and exciting. Get ready to be wowed by our exceptional collection of printed fabrics, all available at unbeatable prices!
Discover a World of Prints
Prints have the power to transform any outfit, making it an expression of your unique personality. Our online store boasts a treasure trove of printed fabrics, featuring an extensive range of designs, colors, and materials. Whether you're a fan of florals, stripes, abstracts, or traditional motifs, we have something that will capture your imagination.

Buy Printed fabrics for your Apparel manufacturing Company
Quality Meets Affordability
We understand the importance of quality in fashion, and that's why we've curated a selection of printed fabrics that are not only visually stunning but also durable and comfortable to wear. What's more, our commitment to affordability means you can enjoy premium prints without breaking the bank.
Endless Possibilities
The versatility of our printed fabrics knows no bounds. From crafting stylish garments to sprucing up your home decor, there are endless possibilities with these fabrics. Create your own unique fashion statement, design bespoke home furnishings, or embark on exciting DIY projects – our prints are your canvas.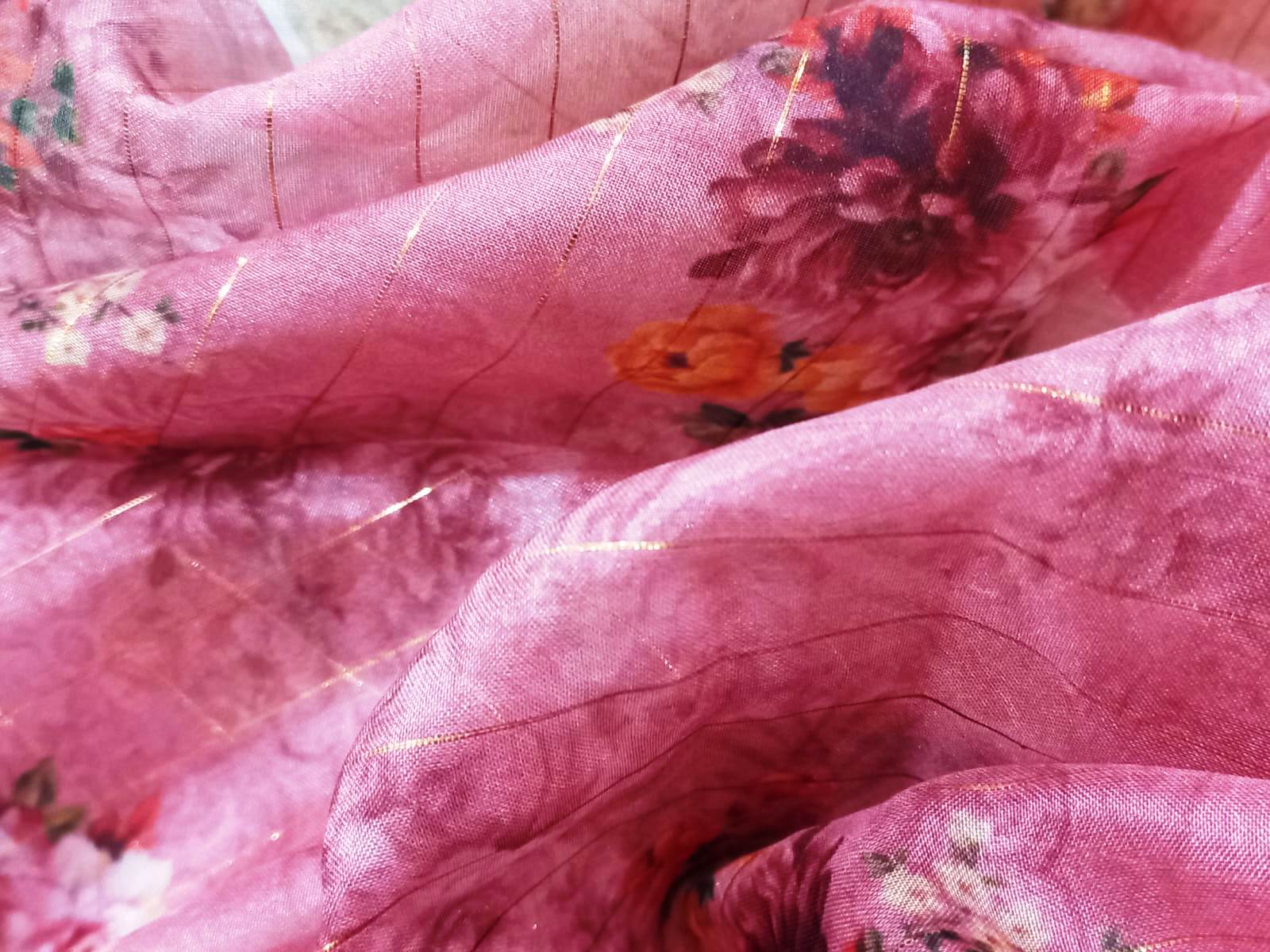 Convenience at Your Fingertips
Shopping for printed fabrics has never been easier. Our user-friendly online store offers a seamless shopping experience. Browse, choose, and order your favorite prints from the comfort of your home. We offer hassle-free delivery to your doorstep, so you can start your creative journey without delay.
Stay Trendy and Timeless
Prints are timeless, and they effortlessly adapt to changing fashion trends. Whether you're a trendsetter or someone who values classic style, our collection has something for everyone. Stay ahead of the fashion curve or create your fashion legacy with our printed fabrics.
Join the Print Revolution
Don't miss out on this opportunity to elevate your style game with the finest printed fabrics available online. Embrace the print revolution and infuse your life with color, design, and creativity. Visit our online store today and start your journey into the world of printed fabric wonders. Your next fashion masterpiece is just a click away!
FAQ
1. Where can I buy the finest embroidery fabric online?
Madhav Fashion is your one-stop destination for purchasing the finest embroidery fabric online. Our extensive collection showcases a wide range of exquisite embroidery fabrics, meticulously crafted to meet the highest standards of quality and design. With a legacy of excellence, we have earned a reputation for being a premier source for embroidery fabrics that are both timeless and fashion-forward.
2. What sets Madhav Fashion apart in the world of embroidery fabric?
What sets Madhav Fashion apart is our unwavering commitment to excellence. Our embroidery fabrics are not just textiles; they are works of art created by skilled artisans who pour their heart and soul into each piece. Our unique combination of tradition and innovation, sustainability efforts, and customer-centric approach make us a leader in the industry.
3. How do I choose the right embroidery fabric for my project?
Choosing the right embroidery fabric depends on your specific project and preferences. Madhav Fashion offers a wide variety of options, from different materials like silk, cotton, and more, to various embroidery techniques and designs. Our knowledgeable team is here to assist you in making the perfect selection to match your project's requirements, whether it's for clothing, home decor, or any other creative endeavor.
4. What is the significance of Madhav Fashion's commitment to craftsmanship?
Madhav Fashion's commitment to craftsmanship is the foundation of our success. Each embroidery fabric we produce undergoes a meticulous process that involves skilled artisans who pay meticulous attention to detail. This commitment ensures that every fabric bearing our name is of the highest quality and embodies the essence of artistry and sophistication.
5. Can you share examples of Madhav Fashion's innovative embroidery designs?
Madhav Fashion prides itself on being a pioneer in innovative embroidery designs. Our collections often feature a blend of traditional motifs with contemporary elements, resulting in fabrics that are not only stunning but also on-trend. From intricate floral patterns to abstract modern designs, our embroidery fabrics showcase a wide spectrum of innovation that sets the bar for the industry.
6. What are the latest trends in embroidery fabric, and does Madhav Fashion offer them?
Madhav Fashion is always at the forefront of the latest trends in embroidery fabric. Whether it's incorporating sustainable materials, experimenting with new embroidery techniques, or introducing unique design elements, we ensure that our collections align with the current fashion landscape. Our fabrics are not just fashionable; they often set the trends others follow. Explore our latest collections to stay ahead of the curve.
7. How does Madhav Fashion incorporate sustainability into their embroidery fabric production?
Sustainability is at the core of our production process at Madhav Fashion. We are dedicated to reducing our environmental footprint by using eco-friendly materials, responsible sourcing, and minimizing waste. Our commitment to sustainability means that when you choose our embroidery fabrics, you're making a responsible choice for the planet.
8. What customization options are available when purchasing embroidery fabric from Madhav Fashion?
Madhav Fashion understands that each customer is unique, and customization is key. We offer a wide range of customization options, including choice of materials, colors, embroidery styles, and patterns. Whether you have a specific vision or need guidance, our team is here to help you create personalized embroidery fabrics that meet your exact requirements.
9. Can you provide testimonials from satisfied customers who have purchased Madhav Fashion's embroidery fabric?
Our satisfied customers have consistently praised Madhav Fashion for the exceptional quality and beauty of our embroidery fabrics. While we respect their privacy, we encourage you to explore our website, where you'll find reviews and testimonials that reflect the positive experiences of our valued clients.
10. Where can I find a gallery of Madhav Fashion's embroidery fabric collections?
You can explore our extensive gallery of embroidery fabric collections on our official website. Our website showcases high-quality images of our fabrics, allowing you to browse and get inspired by the diverse range of designs, materials, and colors we offer.
11. What types of embroidery techniques does Madhav Fashion employ in their fabrics?
Madhav Fashion employs a wide array of embroidery techniques, ranging from traditional hand embroidery to machine embroidery. Our artisans are skilled in various styles, including threadwork, beadwork, sequin embroidery, and more. The choice of technique depends on the design and style of the fabric, ensuring that we can cater to a wide spectrum of preferences.
12. Are there any exclusive offers or discounts available for Madhav Fashion's embroidery fabric?
We regularly offer exclusive promotions and discounts on our embroidery fabrics. To stay updated on our current offers, visit our website's promotions section or subscribe to our newsletter. This way, you can take advantage of special deals and enjoy our premium embroidery fabrics at even more attractive prices.
13. What are the key considerations when choosing between different embroidery fabric materials?
When choosing between different embroidery fabric materials, consider factors such as the intended use, desired texture, and the look you want to achieve. Silk offers a luxurious feel, while cotton provides comfort. Our team can help you navigate these considerations to make an informed choice based on your project's requirements.
14. Can I request samples of Madhav Fashion's embroidery fabrics before making a purchase?
Absolutely, we understand the importance of tactile experience. You can request fabric samples through our website to ensure that the texture, color, and design meet your expectations before making a purchase decision. This allows you to confidently choose the perfect embroidery fabric for your project.
15. How does Madhav Fashion balance traditional and modern elements in their embroidery fabric designs?
Madhav Fashion's ability to blend traditional and modern elements is a result of our deep appreciation for heritage and our openness to contemporary design. Many of our embroidery fabrics feature traditional motifs reimagined in modern contexts, creating a harmonious balance between timeless elegance and current trends.
16. What is the process for ordering embroidery fabric from Madhav Fashion online?
Ordering embroidery fabric from Madhav Fashion is a straightforward process. Simply visit our website, browse our collections, select the fabric you desire, and add it to your cart. Follow the easy checkout process, where you can choose customization options if needed. We offer secure payment methods, and your fabric will be promptly delivered to your doorstep.
17. Are there any design inspirations or stories behind Madhav Fashion's embroidery fabric collections?
Many of our embroidery fabric collections draw inspiration from diverse sources, including cultural heritage, nature, art, and fashion trends. Each collection often has its unique story and design inspiration, providing a deeper connection and narrative to the fabrics we offer.
18. What are the advantages of shopping for embroidery fabric at Madhav Fashion's online store?
Shopping at Madhav Fashion's online store offers numerous advantages, including access to a vast selection of premium embroidery fabrics, the convenience of browsing from anywhere, customizable options, secure payment methods, and prompt doorstep delivery. Our user-friendly website ensures a seamless and enjoyable shopping experience.
19. What are some popular uses for Madhav Fashion's embroidery fabrics in fashion and home decor?
Our embroidery fabrics find versatile applications in both fashion and home decor. In fashion, they are commonly used for creating elegant dresses, sarees, suits, and accessories. In home decor, these fabrics add sophistication to curtains, cushions, tablecloths, and more. The possibilities are limited only by your creativity.
20. Is there a blog or newsletter I can subscribe to for updates on Madhav Fashion's embroidery fabric and fashion tips?
Yes, you can subscribe to our newsletter on our website to stay updated on the latest embroidery fabric collections, fashion trends, style tips, and exclusive offers. Our blog also provides valuable insights into fashion and home decor, offering inspiration and guidance for your projects involving Madhav Fashion's embroidery fabrics.
Printed fabric