In the vast landscape of the Indian textile industry, Madhav Fashion shines as a distinguished embroidery fabric manufacturer. With its unwavering commitment to quality, innovation, and customer satisfaction, Madhav Fashion has emerged as a trusted partner for garment manufacturers nationwide. In this article, we delve into the remarkable journey of Madhav Fashion, highlighting its position as the go-to choice for top-quality, premium embroidery fabrics. Discover why partnering with Madhav Fashion can give your garment business a competitive edge in the dynamic fashion market.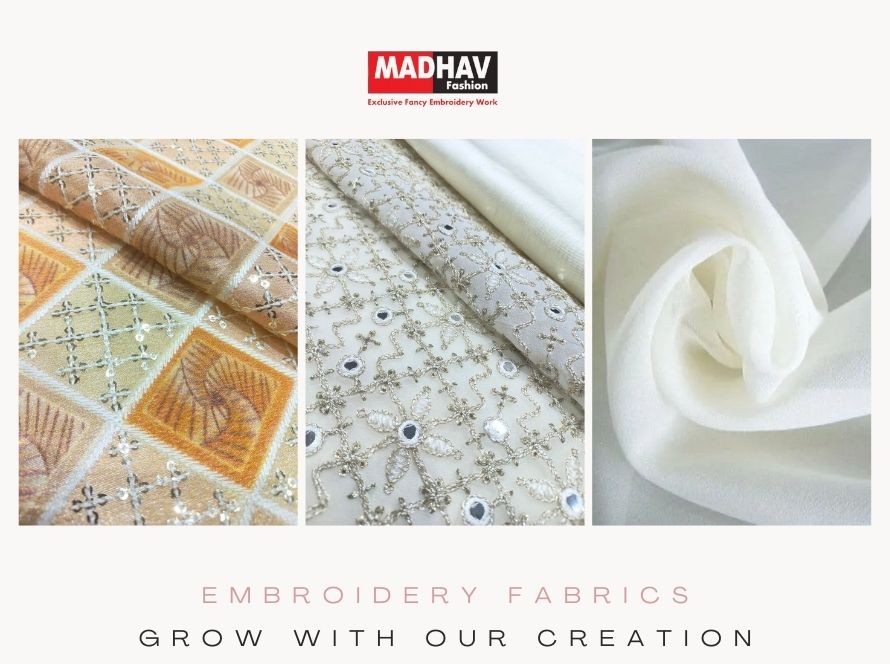 Unmatched Expertise and Craftsmanship:
Madhav Fashion boasts unmatched expertise and craftsmanship when it comes to embroidery fabric manufacturing. With years of experience and a team of skilled artisans, the brand consistently delivers embroidery fabrics of the highest standards. From intricate designs to flawless stitching, each fabric exudes the mark of superior craftsmanship. Garment manufacturers can rely on Madhav Fashion to provide them with the finest embroidery fabrics, ensuring their creations stand out in the industry.
Wide Range of Top-Quality Embroidery Fabrics:
Madhav Fashion offers a diverse range of top-quality embroidery fabrics that cater to various garment categories. Whether it's traditional wear like sarees and lehengas or contemporary ensembles like gowns and fusion outfits, Madhav Fashion has the perfect fabric to elevate the appeal of every design. From delicate floral patterns to elaborate motifs, their collection embodies creativity and sophistication. Garment manufacturers partnering with Madhav Fashion gain access to a vast selection of embroidery fabrics that can bring their unique design visions to life.
Unparalleled Customization Options:
Madhav Fashion understands the importance of customization in the garment industry. They collaborate closely with garment manufacturers to fulfill their specific requirements. From color customization to design modifications, Madhav Fashion ensures that every fabric is tailored to suit the individual needs of their clients. This flexibility allows garment manufacturers to create exclusive collections that resonate with their target audience, setting them apart from competitors.
Unrivaled Customer Support and Timely Deliveries:
Madhav Fashion prides itself on providing unrivaled customer support to its clients. Their dedicated team works closely with garment manufacturers, offering guidance and assistance throughout the fabric selection and customization process. Moreover, Madhav Fashion is committed to timely deliveries, ensuring that garment manufacturers receive their orders promptly. This reliability allows businesses to meet their production timelines and maintain a seamless workflow.
Nationwide Presence and Industry Reputation:
Madhav Fashion's footprint spans across the nation, serving garment manufacturers from various states and regions. Their extensive distribution network enables them to cater to clients in every corner of India. With their unwavering commitment to quality and customer satisfaction, Madhav Fashion has built a solid reputation within the industry. Garment manufacturers seeking the best embroidery fabrics in the market consistently choose Madhav Fashion as their preferred partner.
As the leading embroidery fabric manufacturer in India, Madhav Fashion offers garment manufacturers a gateway to superior quality, top-of-the-line embroidery fabrics. With their unmatched expertise, wide range of fabrics, customization options, and reliable customer support, Madhav Fashion stands as the go-to choice for businesses seeking premium embroidery fabrics. By partnering with Madhav Fashion, garment manufacturers gain access to a wide selection of top-quality fabrics that can elevate their creations and set them apart in the competitive fashion landscape. With Madhav Fashion as your trusted partner, you can embark on a successful journey in the garment industry, creating exceptional designs that captivate the market.