Madhav Fashion, August 15, 2023 — Amidst a sea of tricolor decorations and an atmosphere charged with patriotic fervor, Madhav Fashion, the illustrious fashion house, celebrated India's 77th Independence Day in a grandiose event led by its visionary founder, Mr. Umesh Malaviya.
The event was a resplendent ode to the nation's rich history and the brand's commitment to excellence. Distinguished guests, esteemed clients, and dedicated employees congregated at the venue, making it a melting pot of unity and celebration.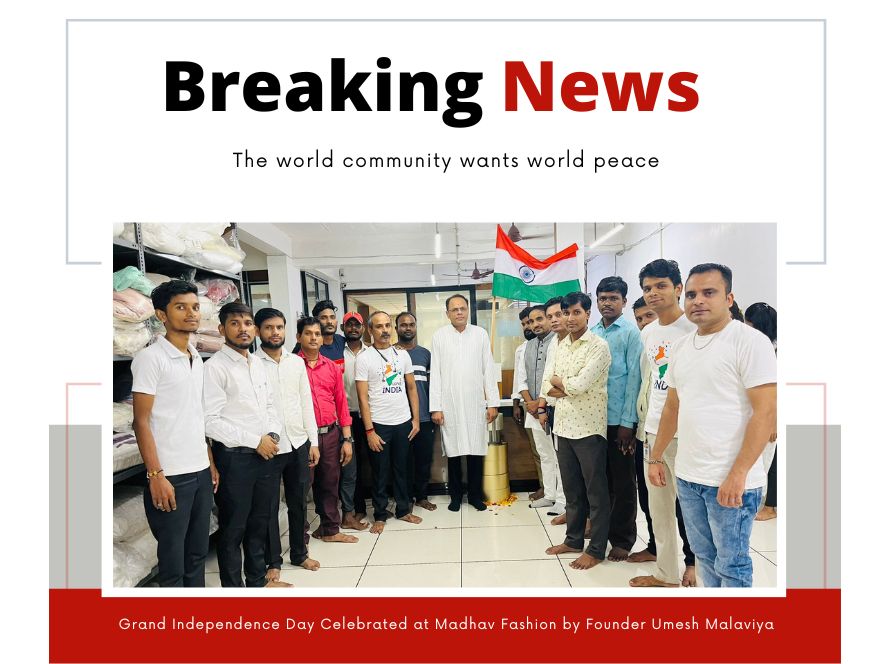 With the unfurling of the national flag by Mr. Umesh Malaviya himself, accompanied by the soul-stirring national anthem, the event began on a note of profound patriotism. In his inspiring address, Mr. Malaviya underscored the remarkable journey of Madhav Fashion as a mirror of India's progress, and he emphasized the fusion of tradition and innovation that has defined both the brand and the nation.
The festivities unfolded with a breathtaking display of culture, including mesmerizing dance performances, heartfelt patriotic renditions, and a striking fashion show that showcased Madhav Fashion's latest collection. Each ensemble echoed the brand's signature blend of heritage and contemporary flair, a true testament to Mr. Malaviya's creative vision.
"Today, as we stand shoulder to shoulder as proud citizens of this great nation, I am reminded of the values that drive us forward – the freedom to dream, the freedom to create, and the freedom to inspire," Mr. Umesh Malaviya passionately expressed during his speech.
The celebration extended beyond the fashion runway, as Madhav Fashion took the opportunity to launch a noble social initiative aimed at empowering underprivileged artisans and promoting sustainable fashion practices. This heartfelt initiative underscores the brand's commitment not just to fashion, but to social responsibility and community betterment.
As dusk settled, the sky ignited with a mesmerizing burst of fireworks, a radiant symbol of India's vibrant diversity and the dreams of its people.
The Grand Independence Day Celebration at Madhav Fashion, masterfully orchestrated by the visionary founder Umesh Malaviya, wasn't just a celebration of style and glamour; it was a celebration of India's journey, its unity in diversity, and its relentless pursuit of progress. This event will undoubtedly remain etched in the memory of all attendees as a testament to the indomitable spirit of the nation and the brand's dedication to excellence.
Umesh Malaviya– Founder & CEO Massage
Dear Friends,
As we gather here to commemorate the cherished day of our nation's independence, let us take a moment to reflect on the countless known and unknown heroes who sacrificed their lives for the freedom we enjoy today. Their unwavering dedication and indomitable spirit paved the way for the India we know and cherish.
On this significant occasion, we are not only celebrating the past but also embracing our responsibility to shape the future. Our nation's progress lies in our hands, and it is up to us to continue the work of those who came before us. We stand at a crossroads where each action we take contributes to the building of a great nation.
At Madhav Fashion, we not only take pride in our creative endeavors but also recognize our duty towards the society and the nation at large. As we revel in the grandeur of this Independence Day celebration, let us remember that our success is intertwined with the growth of our nation. It is a privilege to be a part of an industry that reflects the essence of India's diversity and culture.
As we move forward, let us remain committed to excellence, innovation, and responsible business practices. By fostering creativity, empowering our artisans, and embracing sustainability, we contribute to the larger goal of nation-building. Let us honor the sacrifices made by our forefathers by channeling their spirit into our daily efforts.
Together, we have the power to contribute to the greatness of our nation. Let us forge ahead with determination and unity, inspired by the legacy of those who fought for our freedom. May Madhav Fashion continue to stand as a beacon of both creativity and responsibility, reflecting the values that make our nation shine.
Wishing you all a joyful and meaningful Independence Day!
Warm regards,
Umesh Malaviya Founder & CEO Madhav Fashion
Reference