Step into the World of Fashion: Join the Biggest Fabric Expo in Tirupur, Tamil Nadu 2023: Are you a fashion enthusiast or an apparel manufacturer looking for the finest fabrics? Mark your calendars for an exciting event happening in Tirupur, Tamil Nadu. Madhav Fashion presents the Biggest Fabric Expo – an extravaganza of textile wonders, where fashion dreams come true.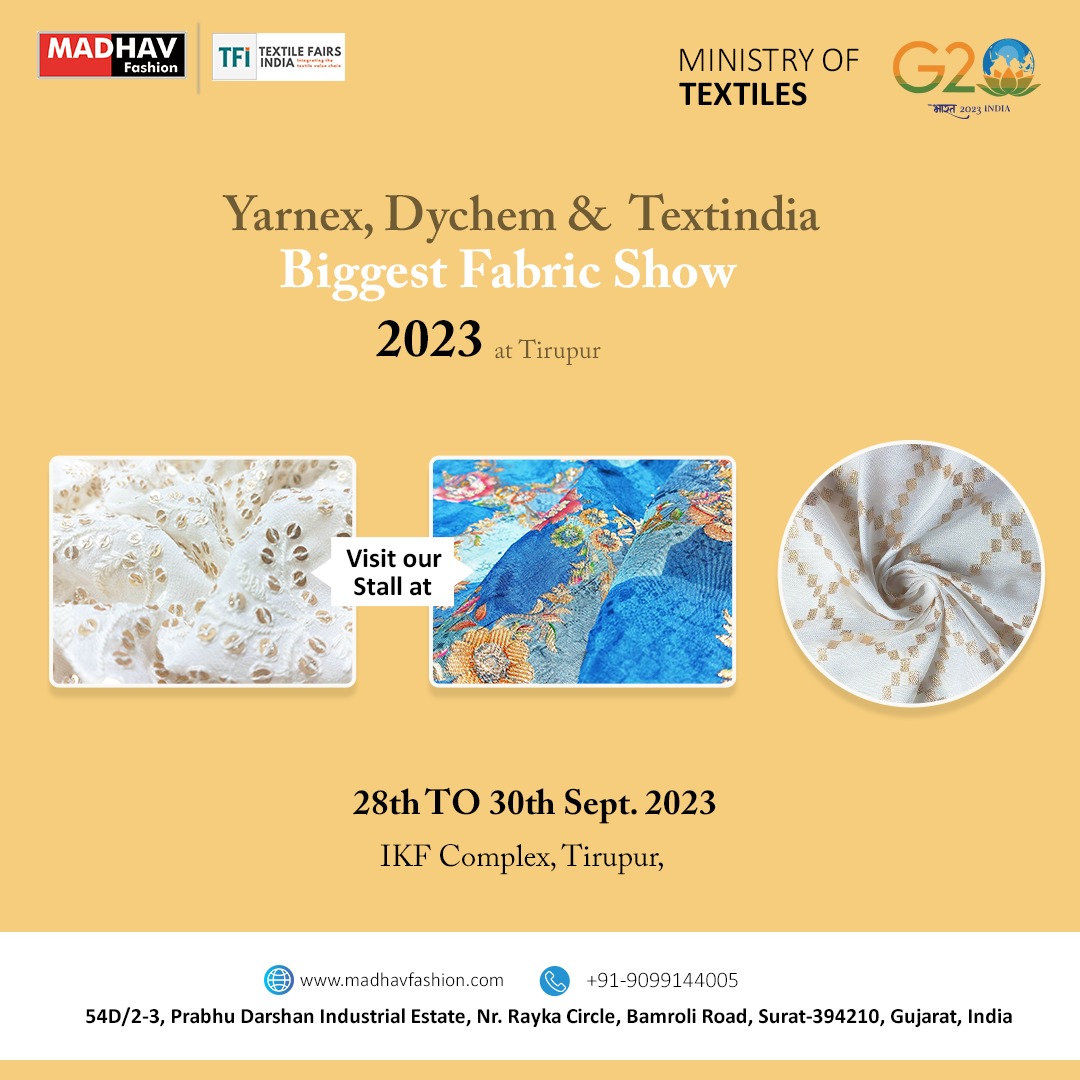 The Ultimate Textile Extravaganza:
The event is set to take place on 28th, 29th, and 30th September 2023, attracting textile aficionados from all over the country. Witness the beauty of intricate embroidery, vibrant prints, and luxurious plain fabrics, all under one roof.
Discover Unparalleled Fashion:
At the Biggest Fabric Expo, you'll have access to an extensive collection of high-quality textiles, carefully curated by Madhav Fashion. From opulent embroideries to trendy printed fabrics, the options are limitless, providing a world of creative possibilities for designers and manufacturers alike.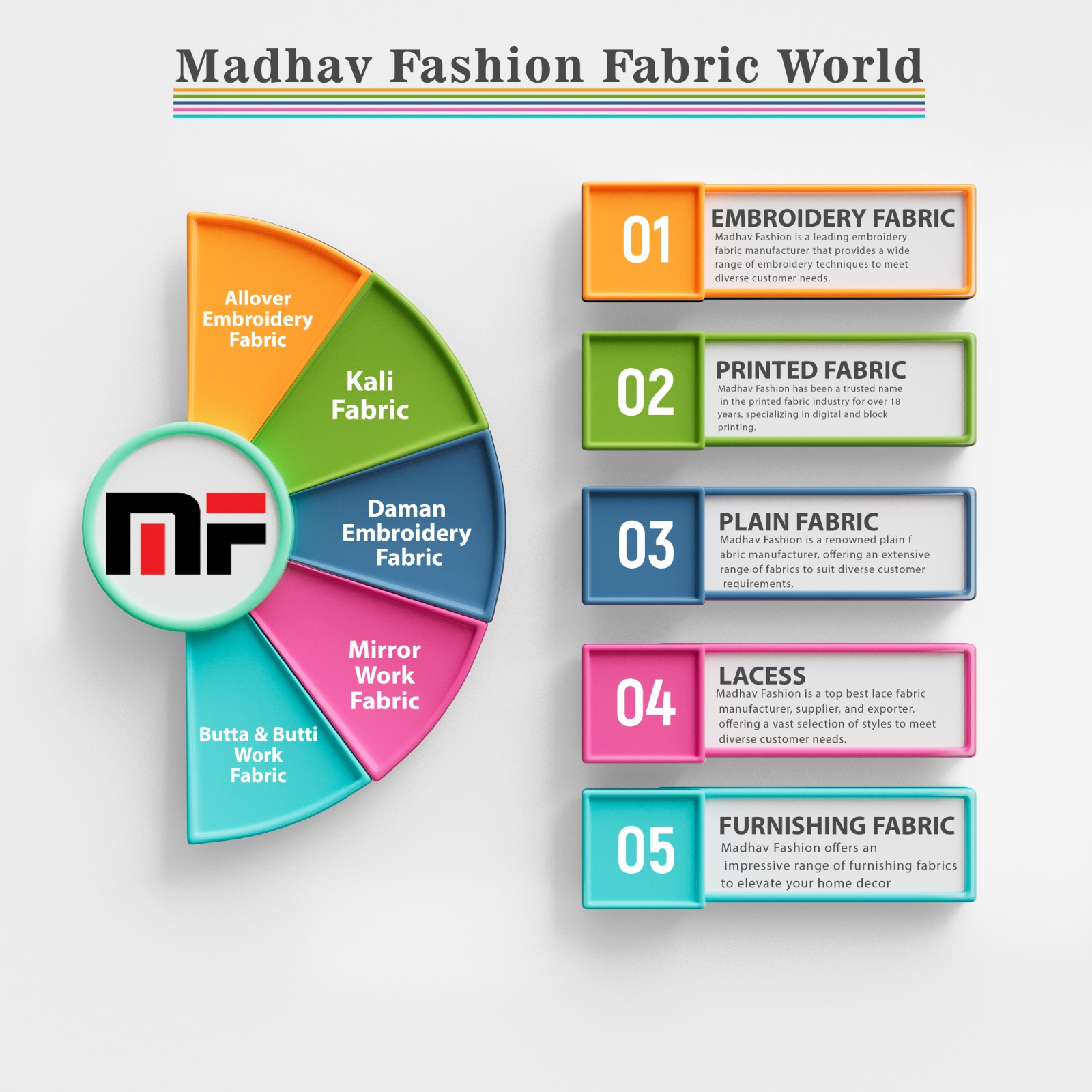 A Hub of Fashion and Innovation:
This event promises to be an immersive experience for all fashion enthusiasts, with leading industry experts sharing insights into the latest trends and innovations. Network with fellow designers, manufacturers, and suppliers, and stay ahead in the dynamic world of fashion.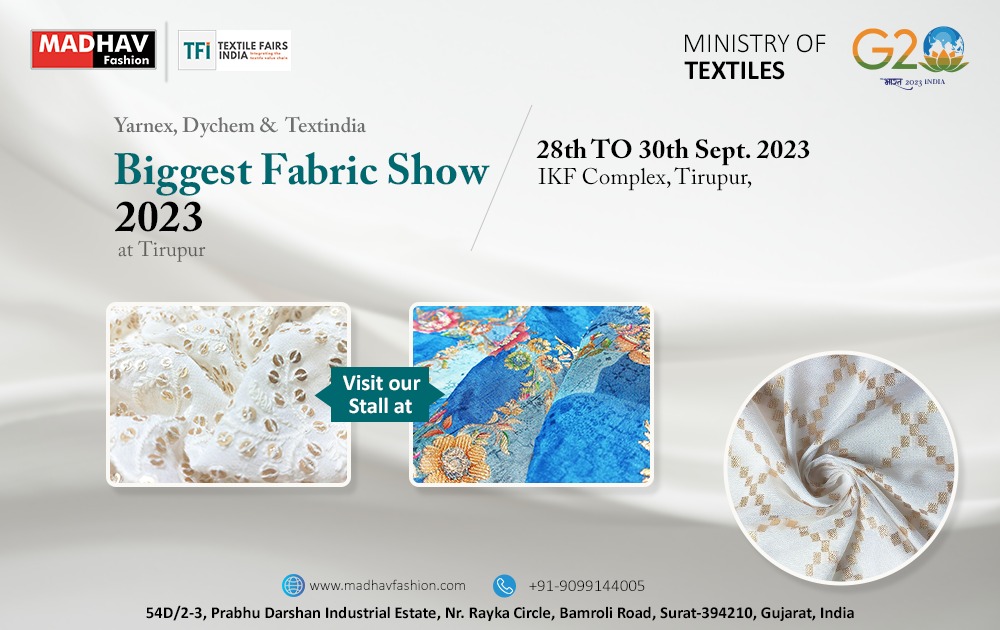 Meet the Masters:
Don't miss the chance to interact with the team from Madhav Fashion, renowned for their expertise in the textile industry. Learn about their innovative techniques and craftsmanship that have earned them accolades worldwide.
Register Now:
To be a part of this extraordinary event, call us at +91-9099144005 and secure your spot. The Biggest Fabric Expo is a must-attend for anyone passionate about fashion and textiles.

Join us at the Biggest Fabric Expo in Tirupur and immerse yourself in a world of style, creativity, and inspiration. Madhav Fashion invites you to discover the finest fabrics that will elevate your designs and make your mark in the ever-evolving fashion landscape.
Exhibition