Madhav Fashion to Showcase Latest Trends at TFI Mega Summit
New Delhi, India – Madhav Fashion, a leading name in the fashion industry, is excited to announce its participation in the highly anticipated TFI Mega Summit. This exclusive event is set to take place from the 6th to 8th of July 2023 at Hall 2, 3, 4 in Pragati Maidan, New Delhi.
Fashion enthusiasts, industry professionals, and buyers are eagerly looking forward to this grand event, which promises to showcase the latest trends from "Fiber to Finish" all under one roof. Madhav Fashion aims to provide an extraordinary experience to attendees, offering unparalleled sourcing opportunities and networking prospects.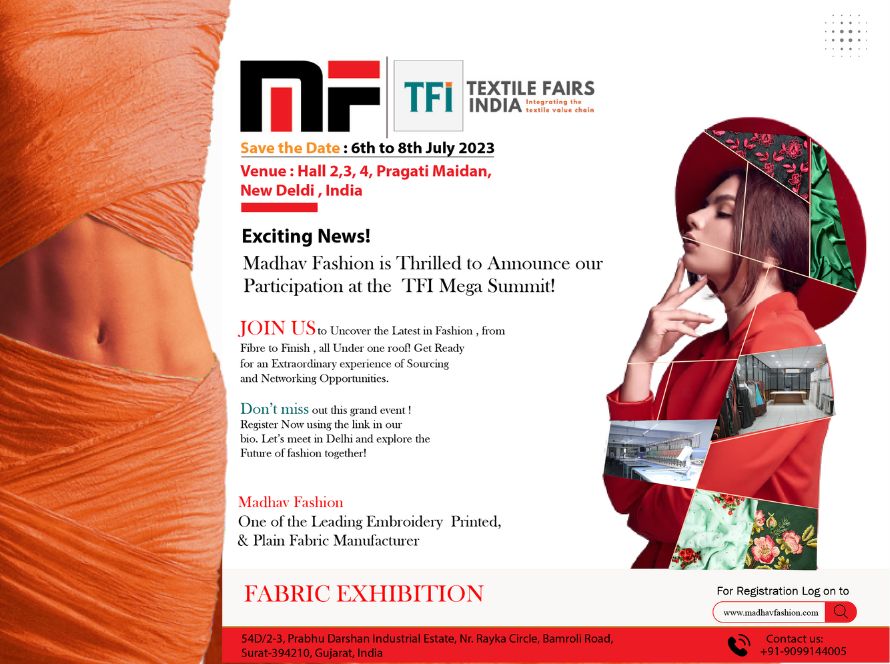 With an extensive lineup of exquisite designs and quality craftsmanship, Madhav Fashion's booth is expected to be a major attraction at the summit. Buyers attending the event will have the opportunity to explore the hottest trends and connect with top industry experts. This presents a unique chance for brands to elevate their profiles and expand their networks in the fashion world.
"We are thrilled to be a part of the TFI Mega Summit," said Mr. Umesh Malaviya, the founder and CEO of Madhav Fashion. "This event serves as a platform for us to showcase our latest collections, engage with industry peers, and connect with potential buyers. We look forward to sharing our passion for fashion and collaborating with like-minded individuals."
Attendees can expect a wide range of activities at the summit, including fashion shows, panel discussions, and workshops conducted by renowned industry professionals. From sustainable fashion practices to emerging design trends, the TFI (Textile fairs India) Mega Summit aims to be a comprehensive platform that covers all aspects of the fashion industry.
To ensure participation in this exciting event, interested individuals and buyers are encouraged to register early. Registration can be completed through the link provided in Madhav Fashion's website or social media channels.
Don't miss the chance to be a part of this grand event and witness the future of fashion at the TFI Mega Summit. Mark your calendars, register now, and join Madhav Fashion in shaping the fashion landscape.
About Madhav Fashion: Madhav Fashion is a renowned fashion brand known for its exceptional designs, craftsmanship, and commitment to quality. With a focus on contemporary fashion trends, Madhav Fashion has established itself as a trusted name in the industry, catering to fashion enthusiasts worldwide.
Press Contact: Name: Mr. Aditya
Email: madhavfashion2005@gmail.com
Phone: +91-90991 44005
Website: www.madhavfashion.com