Madhav Fashion, a leading name in the world of haute couture, brings to you a mesmerizing collection of Buy Embroidered Butti Fabric (embroidered butti fabric with gold sandwich sequins, zari work and read thread work), adorned with gold sandwich sequins, intricate zari work, and rich red thread embroidery. Crafted from premium quality viscose georgette fabric, this versatile material is 44 inches wide, with a delightful 38-inch embroidery panel. Its unmatched beauty and durability make it the ideal choice for a wide range of clothing and decor items, including kurtis, tops, lehengas, gowns, sarees, blouses, dupattas, churidars, and even for kids and men's wear. Beyond fashion, this fabric finds its place in home decor, event decor, festivals, and artistic endeavors.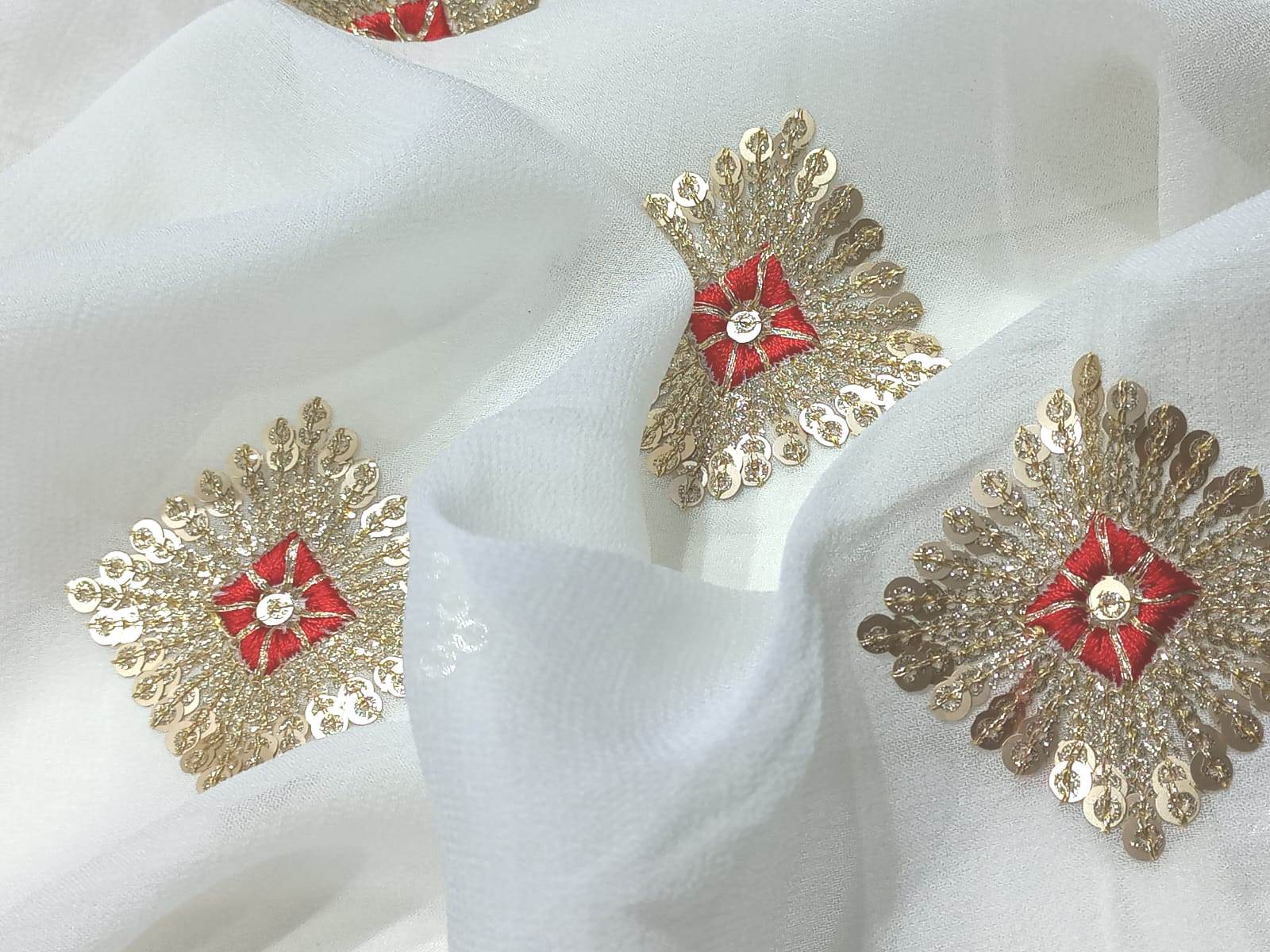 The Allure of Embroidered Butti Fabric:
Embroidered Butti Fabric is more than just a piece of cloth; it is a work of art that exudes charm and elegance. The delicate butti designs, infused with shimmering gold sandwich sequins, add a touch of opulence to any outfit or decor item. The intricate zari work, meticulously woven into the fabric, showcases the craftsmanship of skilled artisans, while the vibrant red thread embroidery imparts a regal and timeless appeal. Each thread and sequin are meticulously placed, creating a symphony of colors and textures that captivate the beholder.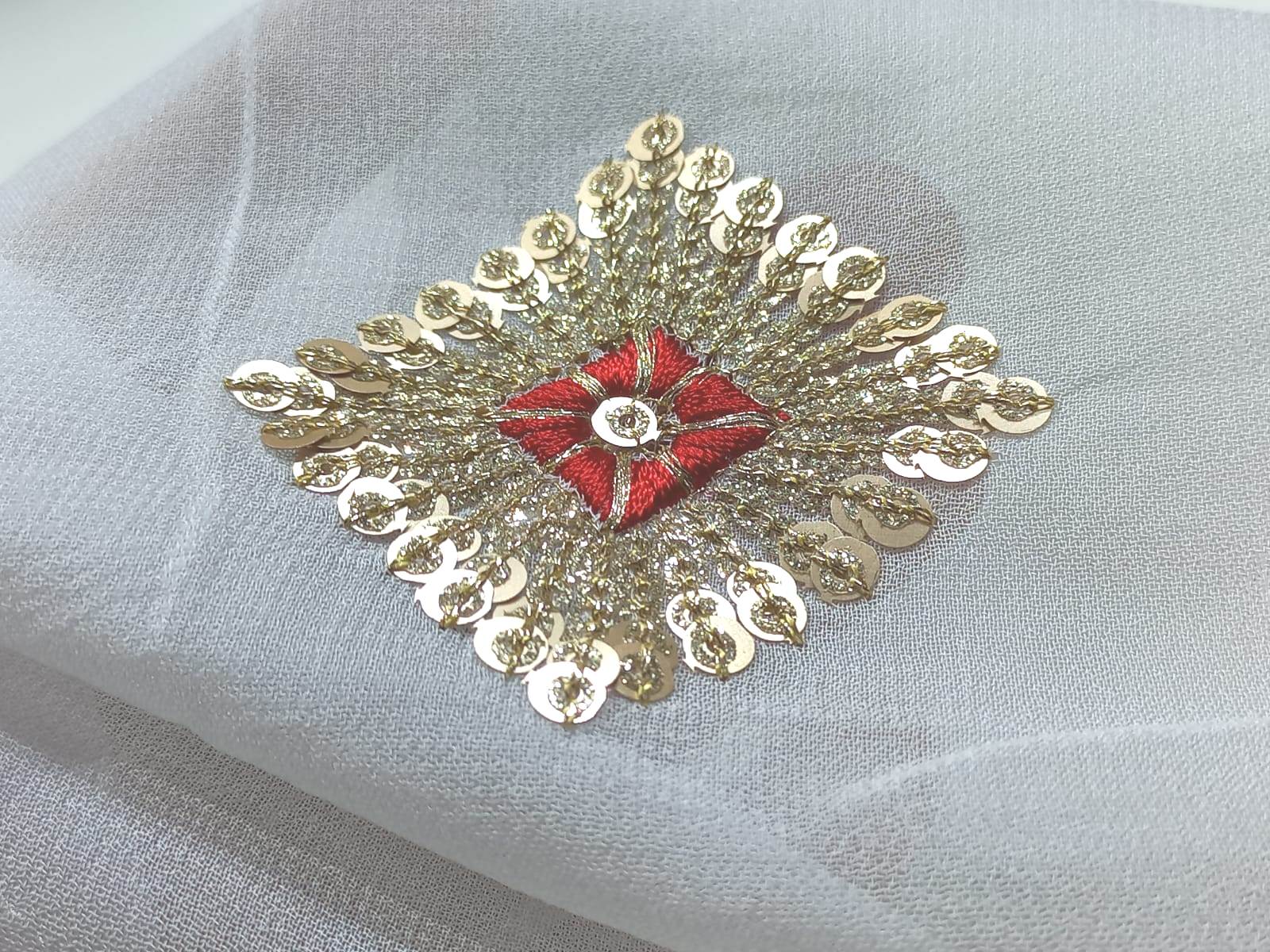 Madhav Fashion's Embroidered Butti Fabric is crafted from high-quality viscose georgette fabric, renowned for its lightweight, flowy, and breathable nature. The soft texture of the fabric drapes gracefully, making it an ideal choice for a variety of clothing options. Whether you seek comfort in everyday wear or desire to stand out in special occasions, this fabric meets all your expectations.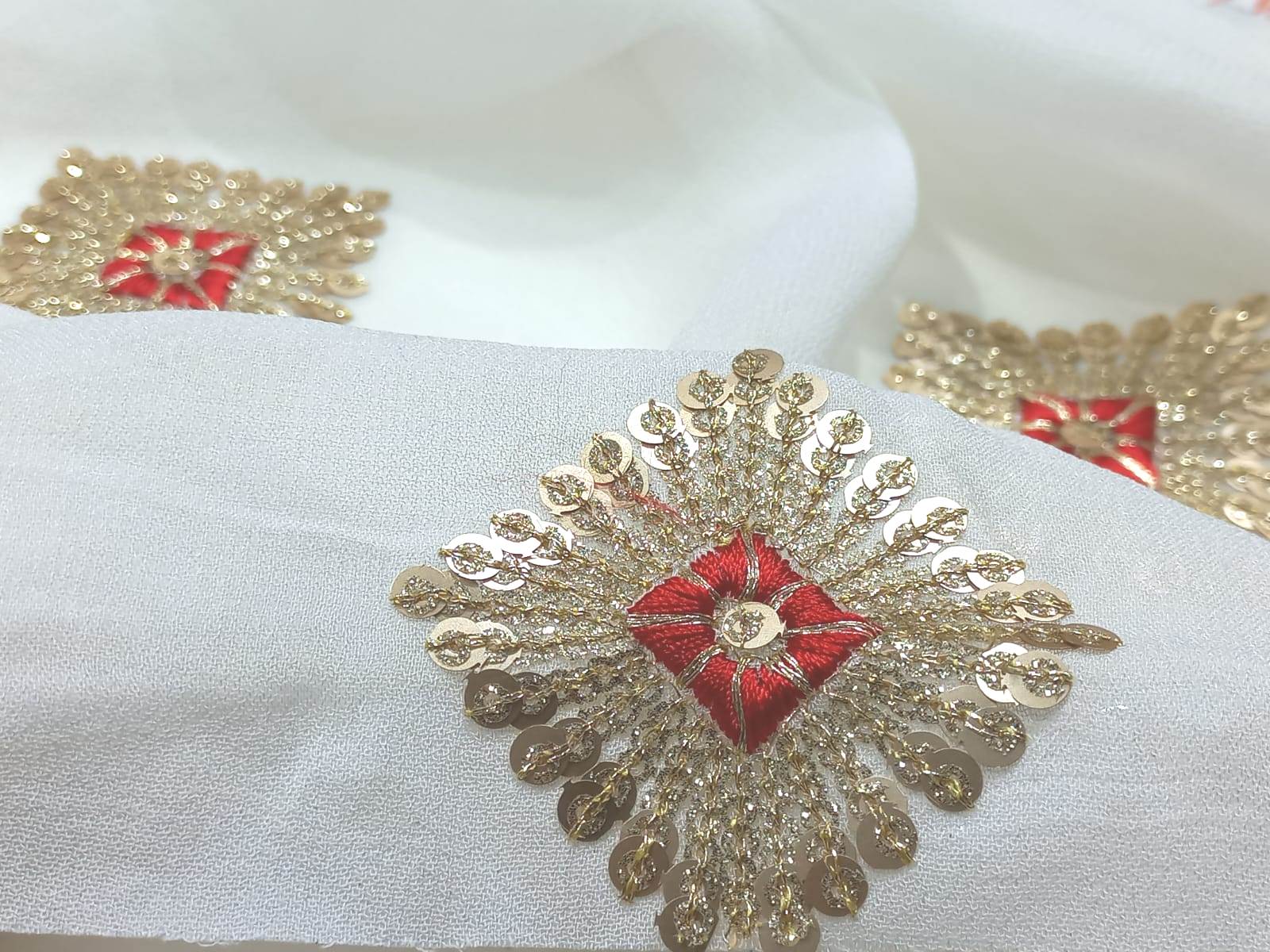 The charm of Embroidered Butti Fabric lies in its versatility. This fabric gracefully complements traditional Indian attire like sarees, lehengas, and kurta sets, elevating your style quotient. At the same time, it effortlessly embraces contemporary western designs, offering a fusion of elegance and modernity. With Madhav Fashion's Embroidered Butti Fabric, you can create an array of stunning outfits, making every occasion memorable.
Madhav Fashion's Embroidered Butti Fabric goes beyond fashion and seamlessly blends with home and event decor. Adorn your living spaces with curtains, cushion covers, and table runners, reflecting the richness of Indian artistry. Elevate your festive decorations with intricately embroidered drapes and wall hangings, immersing your home in the spirit of celebrations.
Latest Premium Chain Thread Embroidery work on viscose Georgette Fabric- 9057

A Tale of Elegance and Intricacy Premium chain thread embroidery is a centuries-old craft, meticulously passed down from one generation to another. The technique involves hand-stitching fine metallic or silk threads in chain-like patterns, forming a captivating interplay of texture and depth.

Aditya
Madhav Fashion's Embroidered Butti Fabric has transcended geographical boundaries to become a global sensation. The artistry and craftsmanship inherent in this fabric have garnered admirers from 195 countries worldwide. Its popularity stems not only from its visual appeal but also from the rich cultural heritage it represents, captivating people from diverse backgrounds.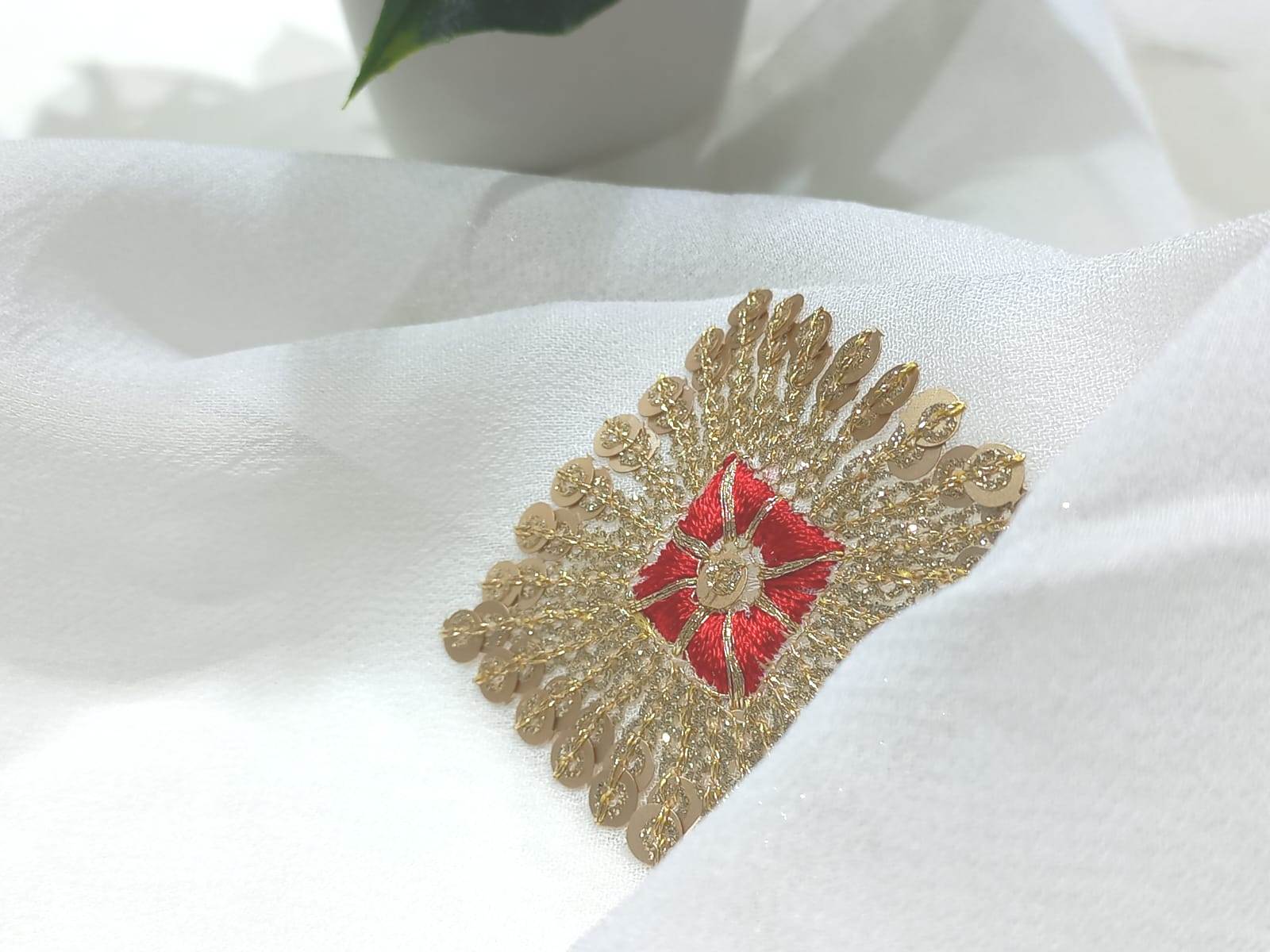 Madhav Fashion's Embroidered Butti Fabric is a celebration of art, culture, and elegance. Its enchanting beauty, adorned with gold sandwich sequins, zari work, and red thread embroidery, makes it a timeless choice for fashion enthusiasts and decor connoisseurs alike. With its versatility, comfort, and global charm, this fabric has established Madhav Fashion as a renowned brand in the global market. So, embrace the beauty of Embroidered Butti Fabric and let Madhav Fashion add a touch of enchantment to your world.