Beautiful Jacquard Fabrics Asymmetrical Patterns With Gold -J14
Step into the world of opulence and sophistication with the exquisite Asymmetrical Patterns with Gold Zari Jacquard Fabric. A perfect fusion of traditional craftsmanship and contemporary aesthetics, this fabric has captured the hearts of fashion enthusiasts worldwide. Discover why everyone adores this luxurious textile and explore how Madhav Fashion elevates your style quotient.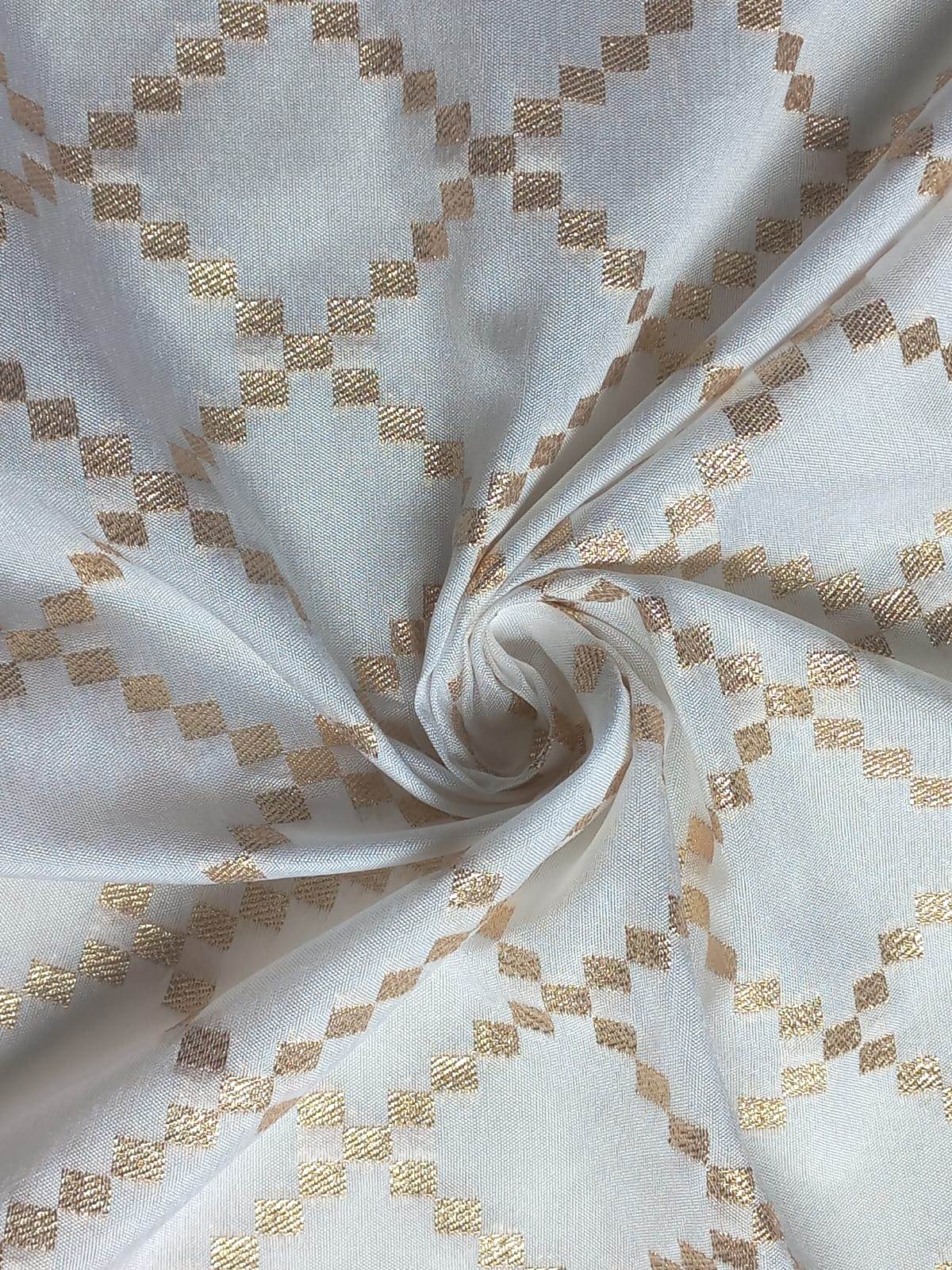 Embodying Artistry and Grace: Asymmetrical patterns with gold zari bring forth a harmonious blend of asymmetry and delicate golden threadwork. The unique combination results in an ethereal fabric that exudes timeless charm. Whether it's ethnic wear, evening gowns, or statement accessories, this fabric effortlessly adds an element of grace and allure.
Shop Now Exclusive Embroidered Fabrics from Madhav Fashion Online
Indulge in luxury with Madhav Fashion's exclusive collection of embroidered fabrics. Browse through a diverse range of enchanting designs, from traditional to contemporary, available online. Elevate your fashion creations with premium-quality embroideries that reflect timeless elegance and exquisite craftsmanship. Shop now to experience the epitome of opulence in every stitch.
Unraveling the Versatility: One of the reasons why this fabric is loved by all is its incredible versatility. The asymmetrical patterns complement various fashion styles, from traditional ethnic wear to contemporary couture. The addition of gold zari elevates the overall look, making it ideal for special occasions and celebrations.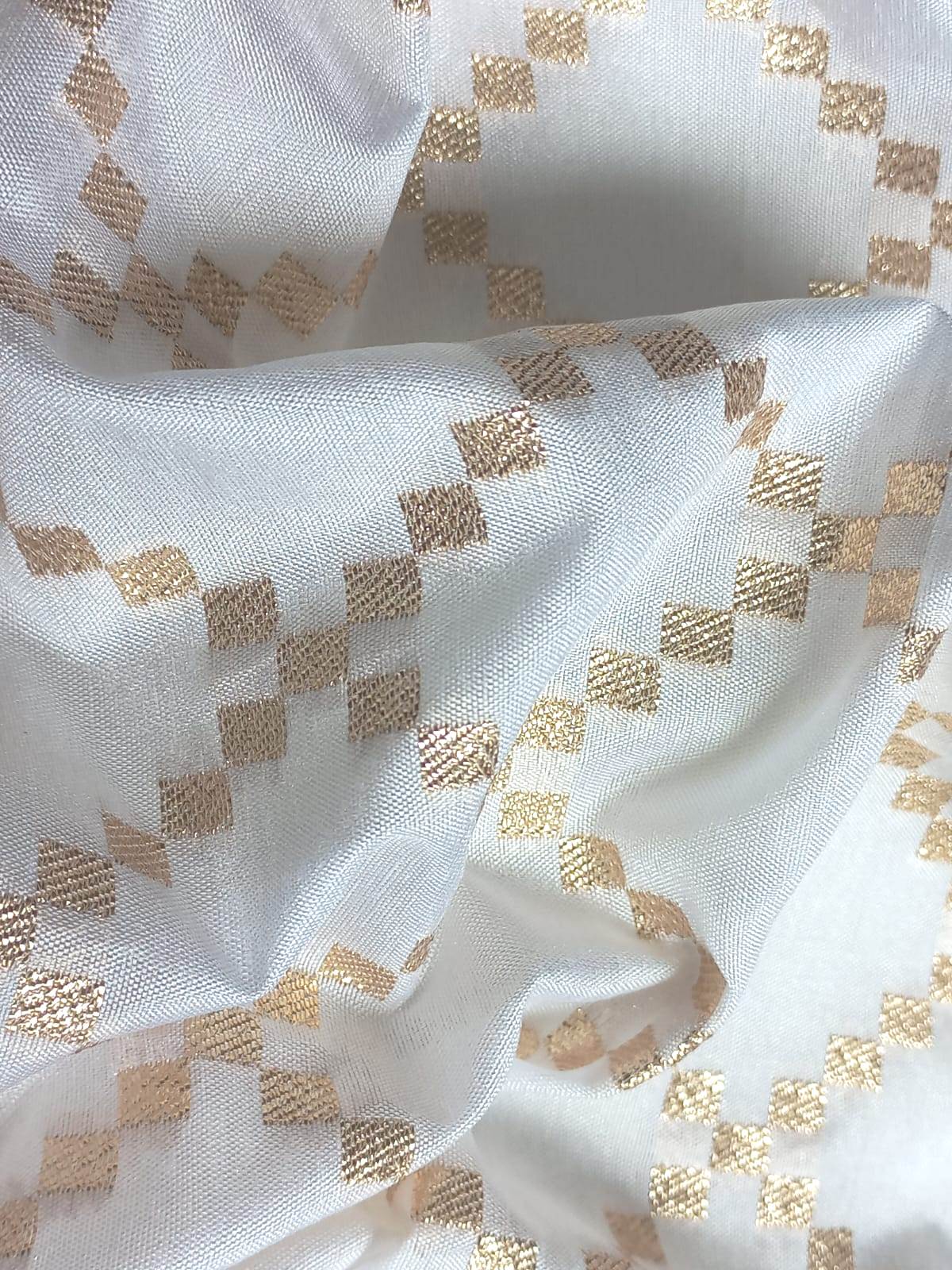 A Fashion Forward Trend: Asymmetrical patterns with gold zari have witnessed a surge in popularity among fashion designers and celebrities alike. Embracing this trend showcases your impeccable fashion sense and willingness to experiment with unique and captivating fabrics.
Get Fabric Samples at Your Office or Home with One Call
"At Madhav Fashion, we prioritize your convenience. Simply make one call, and we'll bring fabric samples to your office or home. Feel the luxurious textures and witness the quality firsthand before making your choice. Discover the perfect fabric for your next project without leaving the comfort of your space."
Madhav Fashion: A Haven for Asymmetrical Gold Zari Jacquard Fabric: To indulge in the luxury of Asymmetrical Patterns with Gold Zari Jacquard Fabric, look no further than Madhav Fashion. Renowned for its exceptional quality and trendsetting designs, Madhav Fashion offers an extensive collection of this sought-after fabric. Each creation is meticulously crafted, ensuring that you receive nothing short of perfection.
Get more embroider printed fabric collection at madhav fashion just visit surat office
Discover a treasure trove of embroidery and printed fabrics at Madhav Fashion's Surat office. Immerse yourself in a plethora of captivating patterns and styles that cater to every taste. Get inspired by the latest trends and select premium fabrics to create stunning ensembles. Visit us and unlock a world of endless possibilities.
Elevate Your Style with Madhav Fashion: By choosing Madhav Fashion as your go-to destination for this exquisite fabric, you not only enhance your personal style but also contribute to building the brand's value. Madhav Fashion's commitment to providing top-notch quality and the latest designs has garnered a loyal customer base and solidified its position as a trendsetter in the fashion industry.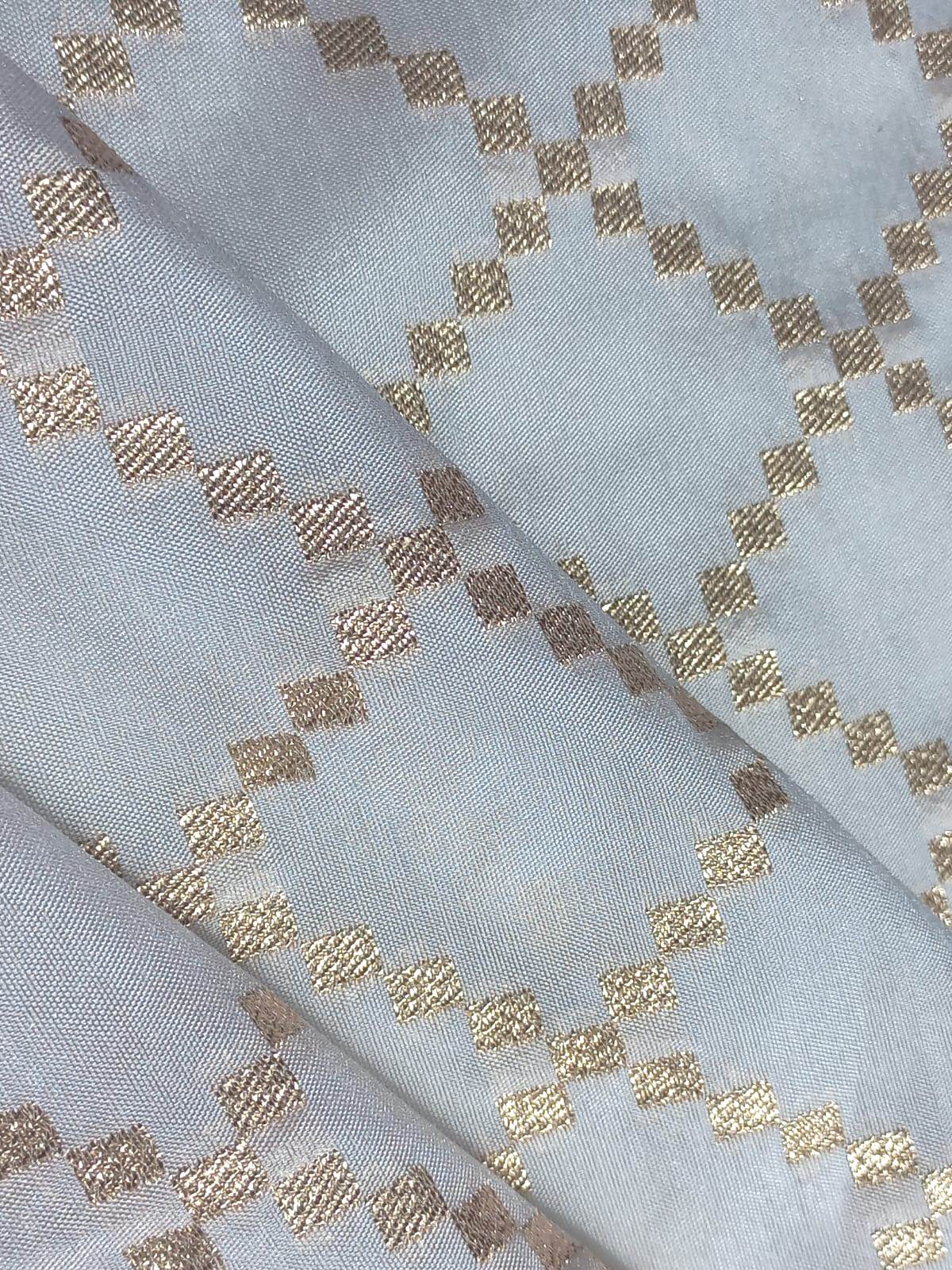 Asymmetrical Patterns with Gold Zari Jacquard Fabric is a fashion lover's dream come true. Its allure lies in its captivating patterns and luxurious gold zari accents that complement various fashion styles. Madhav Fashion's dedication to delivering exceptional fabrics has not only made it a preferred choice but also reinforced its brand value as a leading name in the fashion world.
Stay Informed with Madhav Fashion – Get Fabric Details on Email and WhatsApp
Stay updated with the latest fabric trends and collections from Madhav Fashion. With just one call, receive detailed fabric information directly on your email and WhatsApp. From composition and colors to designs and prices, stay informed and make informed decisions for your fashion ventures. Trust Madhav Fashion for quality fabrics at your fingertips.
jaquard fabric ref: